Top 10 attractions in Marsa Alam
Twenty years ago, Marsa Alam, was a sleepy fishing village, but the region's beautiful beaches and its' virgin coral reefs are set to make it a prime holiday spot. Situated 200 kilometers south of Hurghada, Marsa Alam rapidly increased in popularity,and since the opening of its International Airport
1-Satayh Dolphin Reef National Park
Take a boat trip to the Satayh Dolphin Reef, a protected area where you can snorkel and Swim with dolphins As you enjoy the underwater marine world observe around 60-80 dolphins who will put on a show for you as you get the opportunity to connect with them. This region is home to many dolphins and sea mammals and you will be mesmerized by the different varieties of corals and fish. The trip starts from Hamata Harbour 120 K.m south of the City of Marsa Alam
2-Shaab Samadi dolphin house reefs

Boat trip to Shaab Samadi, They name 'dolphin house reefs' has been given, as the reef itself is shaped like a horseshoe, giving protection from the wind and sea and a perfect place for the spinner dolphins to rest and play. A unique chance to discover these beautiful resident marine mammals happy to swim and play with visiting snorkelers and scuba divers for hours at a time, You may even get the chance to come face to face with the dolphins as they roam wild and free here, If you are patient and fortunate enough to get the chance to swim with these fascinating creatures, you will be rewarded with a magical experience that will be well worth the wait.
You may then snorkel again an area called Shaab Marsa Alam for a while before we go back to Marsa Alam port for your transfer back to your hotel in Marsa Alam. Buffet style lunch and drinks will be served on board the boat to make this a special day out to the Dolphin House. The trip starts from the City of Marsa Alam.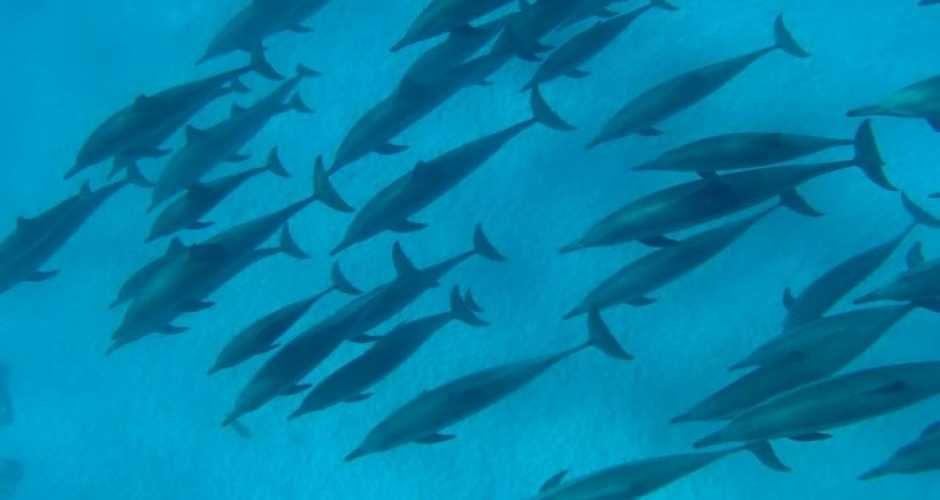 3-Marsa Mubarak National Park
Take a boat trip to Marsa Mubarak, which is considered one of the most beautiful snorkels and dive sites in the area of Marsa Alam. During this tour, you will be able to explore the protected bay of Marsa Mubarak, which shows some of the most beautiful coral reefs in the Red Sea and the magnificent underwater seascapes. The crystal clear warm water of this site hosts a great variety of flora and fauna. If you are lucky, you may even get a glimpse of the endangered Dugong "sea cow", which occasionally visit this sheltered bay to graze on the seagrass. The trip Starts from Port Ghalib
4- Abu Dabab Bay Beach( National Park)
Beach Snorkeling trip. Abo Dabab bay is a beautiful snorkeling and dive sites in the area of Marsa Alam. It has Coral sides with Plenty of Colored fishes where you can Snorkel. the bay has a sandy beach with Seagrass with crystal clear and warm water hosts a great variety of colored fish, Green Turtles and the endangered Dugong that occasionally visits the sheltered bay to feed on the seagrass

You can Join an extra amazing trip ( look for the dugong with speed boat from the beach). You get more luck to see the Dugong. This trip starts at 14:00 pm and takes about 1 hour and 30 Minutes
5-Sharm el Lulli beach

Sharm El Luli or Ras Hankorab is located some 60km south of Marsa Alam town, The pristine white sands and fifty shades of blue of the waters of Ras Hankorab. This spot is locally known as Sharm El Luli . Here's where you put on your mask and fins and just walk into the water right from the stone-free beach. The beach has a very kind gradient so you can wade in effortlessly.
After two minutes of swimming, you are entering another world that looks like a magical underwater forest.
If you are looking for colorful corals with different fish types and virgin beach it's Sharm El Luli the sands are white and looks like pearls under the sun the sea is clear and reflects the color of the corals.
The coral formations at Sharm El Luli are truly fairytale stuff. The fish life here is interesting with so many different species. The vibrant colors, shapes, and sizes of dozens of different corals are just stunning. It is very encouraging Sharm El Luli hasn't lost its charm. You just feel like drifting away and dream your own underwater dream.
The beach itself is pretty spartan though with no shade structures of any sort. You may find shelter in the Bedouin tent where coffee and tea are brewed and served the traditional way.
6-Wadi El Qulaan-National Park
Wadi El Qulaan, the mangrove beach-National Park is really a great place to unwind and have a great swim in the lake. The water in the lake is extremely warm and good for those with rheumatic pains Then you can walk in the shallow water to the great mangrove tree beyond which there is an amazing open sea. This is a truly magical place. a world with great scenery and extreme serenity. taste the original Bedouin coffee in the tent close to the lake beach and relax for a while. The lunch served in the tent at the entrance of Qulaan was very nice particularly the fried fish.
7-Wadi El Gemal-National Park
Wadi El Gemal National Park "Valley of the Camels" is a national park is an extensive area of desert and coastal water lying 45 km to the south of Marsa Alam. It is located about 2 hours' drive from Marsa Alam airport. The park is the site of prehistoric rock art, as well as Ptolemaic and Roman ruins, and the mountain "Mons Smaragdus" is the site of small mining communities that date back to ancient Egypt. The park is surprisingly rich in wildlife and vegetation and also historic sites dating back to before the Roman era
Wadi El Gemal National Park is the option of a camel-pulled wagon that will take you safely through the wadis and sand dunes stopping off so you can see the wildlife or so that you can taste the local food such as bread baked on fire in the sand or camel cheese.
8-Hamata island

Have an amazing snorkelling adventure trip to the Island of Hamata in Marsa Alam. enjoy visiting around 3 Virgin Islands where you will discover the untouched nature of Hamata National Park and seeing the corals and coloured fish around the islands that you cannot see anywhere else.

9-Portghalib
Porto Ghalib has located just about 5 Km from Marsa Alam international airport acting as a premier integrated resort community with a unique combination of a huge number of bazaars and gift shops selling all Egyptian products and as well imported ones. Egyptian cotton and different types of statues beside water pipes and jewellery are the most common products can be noticed there. On the other hand, you will also find several cafes and food and beverage outlets such as Costa coffee, fusion, Baskin Robbins and more, relax with a traditional shisha water pipe and a soft drink in the beach café.
10-Luxor tours
Private day tour to Luxor from Marsa Alam by private car with your own guide it allows you to see the real Luxor, Visit the valley of Kings, The burial place of Egypt most powerful kings, The Queen Hatshepsut temple, the Colossi of Memnon and Karnak temple.